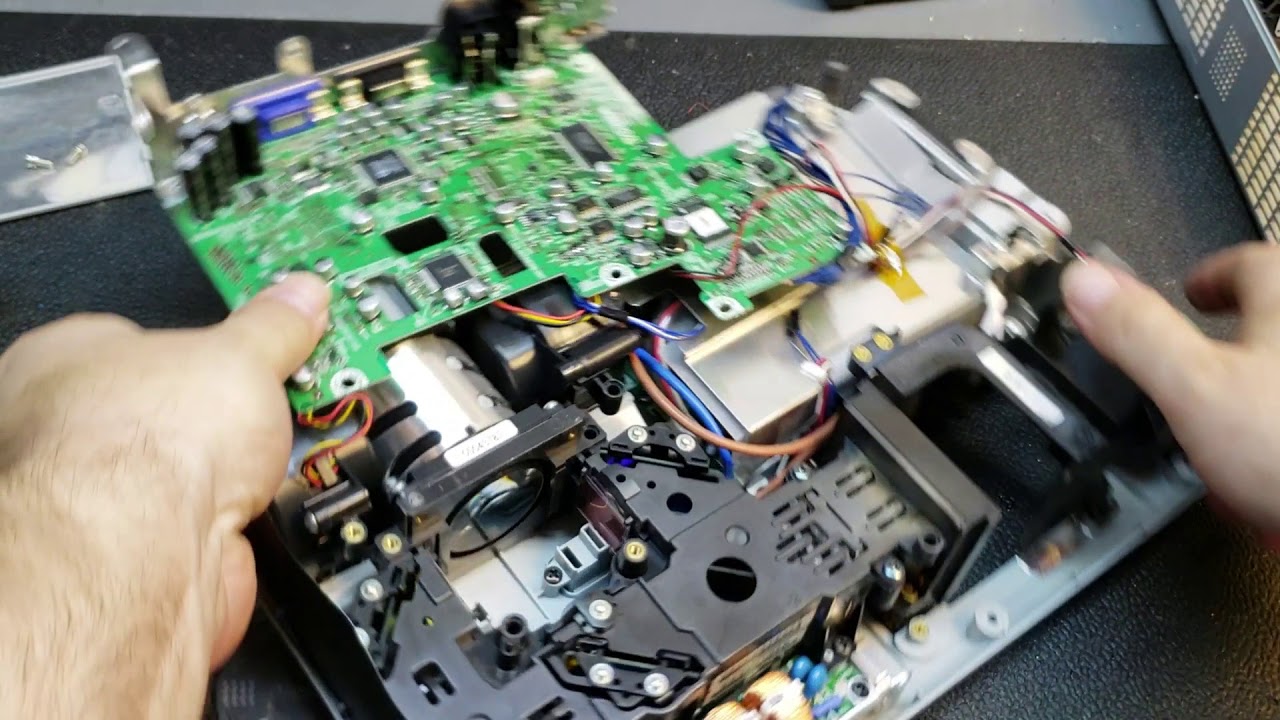 Affordable Projector repair at your reach!
Our qualified technicians can perform troubleshooting as well as repairs of many components. We are located in Plymouth, MI, Detroit area. We service all major makes and models. 
Whenever possible we try to repair a part before replacing it. The landed cost to you is much less than what a manufacturer charges for a replacement part.
Do not risk putting in inexperienced hands, OnTech Force LLC has specialized exclusively in the repair and maintenance of video projectors. 
DIAGNOSIS
The diagnostic fee starts from $99... (varies by Projector's model and size... to pay for the technician's labor to do troubleshooting, diagnosis,  parts search, testing, etc) This fee is deductible toward your repair.
PROJECTOR REPAIR RATES
We offer reasonable rates for all projector repairs. Depending on the problem repair cost can range anywhere from $175 to $275 (labor+parts). 

If the cost of the part is $75 or less we will go ahead and replace it while the machine is under repair. We will contact you should the cost of the part exceeds $75, otherwise, the machine will be repaired and you will be billed accordingly for the repair of your projector.
NOTES:
The main PCB of a Projector repair may result in additional charges, you will be contacted if that is the case.

An additional handling charge of $100 will apply for any projector over 35 lbs.
RUSH SERVICE
Rush service is available at an additional cost of $99. Turn-around time is 1 -2 days. May not be possible in some cases.
LOCAL PICK AND DROP
For your convenience, We offer pickup and drop service to our customers based in the Detroit area. *

SHIPPING OF YOUR PROJECTOR:
STEP 1
Pack your LCD Projector in a sturdy box and get it ready for shipment. 

STEP 2
After you have your LCD Projector all packed in a secure box, please call our office at 
1-734-728-TECH or 1-(734) 728-8324 to arrange a pick-up or simply fill out our repair order form and we will do the rest. 

SHIPPING CHARGES
We charge $35 for return shipping via FEDEX (ground) weight limit may apply.

INSURANCE
We offer up to $1000 insurance on your projector at no cost to you when shipping, additional insurance can also be purchased. Please ask our representative for details.

PLEASE NOTE: Make sure that your Projector is ready before FEDEX arrives.
WARRANTY OF PROJECTOR REPAIR
We will back our LCD Projector Repair work with a 3-Month Warranty from the original date of repair.
* Pick-up and delivery charges may apply. 
WE REPAIR THE FOLLOWING MAJOR BRANDS IN LCD/DLP PROJECTORS:

3M Projector Repair

LG Electronics Projector Repair

ASK Projector Repair

Lightware Projector Repair

Barco Projector Repair

Mitsubishi Projector Repair

BenQ Projector Repair

NEC Projector Repair

Boxlight Projector Repair

Optoma Projector Repair

Canon Projector Repairs

Panasonic Projector Repair

Christie Projector Repair

Panasonic Home Projector Repair

Compaq Projector Repair

Philips Projector Repairs

Delta Projector Repair

PLUS Projector Repair

Digital Projection Projector Repair

Proxima Projector Repair

Dukane Projector Repairs

Runco Projector Repairs

EIKI Projector Repair

Sanyo Projector Repair

Epson Projector Repair

Sharp PG Series Projector Repair

Fujitsu Projector Repair

SharpVision Projector Repair

Hitachi Projector Repair

Sony Projector Repair

IBM Projector Repair

Toshiba CSG Projector Repair

InFocus Projector Repair

Vidikron Projector Repair

JVC Projector Repair

ViewSonic Projector Repair
Projector Care Guide
(A fast and easy reference for the care of your projector)


Read the user manual that came with your projector. It will include operational information exclusive to your projector.

Become familiar with the unit before your first presentation or event.

To prolong lamp life, always allow your projector to cool completely before turning off or unplugging. Remember that excessive heat can greatly shorten your lamp life. Do not operate your projector in direct sunlight or near a heat source.

Change filter* as specified by your user manual.

Never operate the unit without the air filter*. Doing so can draw dust in to the optics of the projector, which can be projected on to your image.

Avoid using your projector in a smoky environment. This can cause damage to the optics of the unit and can void your warranty.

Store your projector in a cool, dry area. Save the shipping box for safe secure storage when not in use. If the need arises for you to ship your projector in the future, the original box and packing material is the safest way to pack your unit.

If projector is mounted to the ceiling, be sure that the area near the intake fan is kept clean and not in direct line of air or heat vents.

For optimal image quality, always keep your lens clean. The safest way to clean your lens is with a lens cloth, which can be purchased at a camera store.

For additional technical support, please call our customer service department directly at 1-734-728-8324 between 10 a.m. and 5 p.m. Eastern Standard Time.